Jeep tour from Batumi to Green Lake
О туре
Best time to visit: Spring, Summer, Autumn
We offer a jeep tour to the "green lake" - unique among the highland lakes of Adjara.
We will depart from Batumi to visit one of the popular Makhuntseti waterfalls in Georgia, see the 12th century arched bridge and then head towards Khulo to visit the main point of the tour - "Green Lake" and have a picnic. The water of the lake is green during the day, and in the evening its color changes depending on the weather. The lake can only be reached by off-road vehicle or by footpaths. After visiting the most beautiful lake in Adjara, we will return to the city of Batumi.
Transportation:
Nissan Pathfinder R51 4WD
Min group size: 4 Persons
+995 599 318 015
https://mytourgeorgia.com
Today : 09:00 - 22:00
Monday: 09:00 - 22:00
Tuesday: 09:00 - 22:00
Wednesday: 09:00 - 22:00
Thursday: 09:00 - 22:00
Friday: 09:00 - 22:00
Saturday: 09:00 - 22:00
Sunday: 09:00 - 22:00
Nissan Pathfinder R51 4WD, unlimited WiFi on board
Fuel.
Picnic (meat on fire, traditional Georgian cheese, khachapuri, drinks).

You can cancel your order automatically anytime before start date. Please see the chart below to find out commission fees according to cancellation date. In case of online payment, money will be refunded to the credit card (which was used in the transaction) within 7 business days.
0%
0% cancellation commission
Pricing
* The price of a tour is 75 € per person.
* Minimum group capacity - 4 persons.
* Maxmimum group capacity -12 persons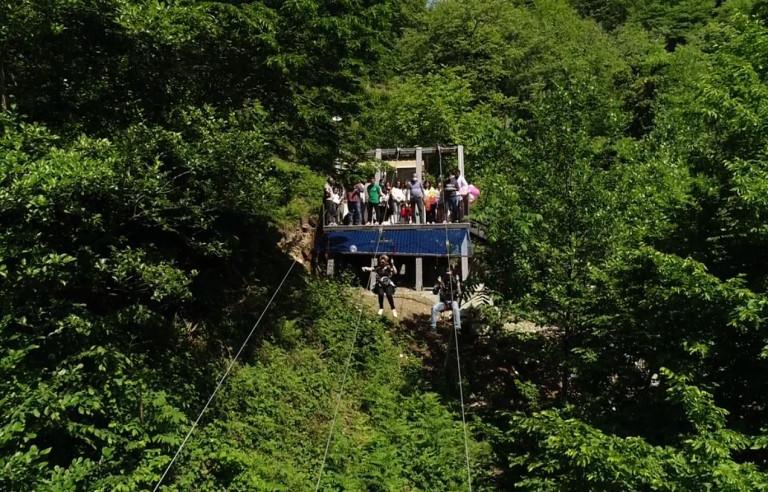 Zip Line
Zip Line in Makhuntseti
Are you ready to get unforgettable and intense emotions? Imagine a 118-meter-high, 512-meter-long zi...
70.00 ₾ per person
Book
Adventure Tour · Rafting
Rafting in Makhuntseti
If you want to try something other than sea in Adjara and you are looking for an extreme, you should...
2 Reviews
216.00 ₾ per person
Book
Review Jeep tour from Batumi to Green Lake
Login