About Surami
Best time to visit: All Season
On the foothill of the Southern slopes of Likhi range, 7 km away to the South-West from the municipality of Khashuri, 750 m from the sea level, there is situated heal and spa resort of Surami. The climate is moderately continental, winter cold, nearby no snow, mean temperature in January -9 degrees. As for summer, it's warm, mean temperature in August 20,2 degrees centigrade. Surami is surrounded by forests, which is reason of its great, fresh air.
Most of all, it is popular among families, with children, as it is children profile resort. Its natural treatment factors are dry, subtropical air and deciduous forest spreading around the resort on 120 ha, mixed with embedded coniferous forest tract. There are also many mineral water springs in the settlement. As a resort Surami has gained its name since the end of the XIX century. During Turkish-Russian wars several military hospitals were operated here. It was discovered then, that Surami climate had a positive impact on patients, especially those, who had malaria.and like that, step by step, Surami became a popular haunt. Here you can have passive climate therapy and mineral water baths.
One of the most popular sighting in Surami is Surami Fortress. Dating X century, located on the bank of river Suramela, in the Southern part of the settlement. The complex includes wall, fortress, tower, palace and the St. George Church, dating XI-XII centuries. As every fortress, this fortification also had a secret tunnel, leading into the depth of 12-16 m and connected with the river Suramela. In the Annals, this fortification is mentioned as a "Strong Tower". There is a legend about it, telling, that there was a man, buried alive in the walls of the fortress. According to the hearsay, from the wall, where Zurab was buried alive, even now, one can see his mother's crystal-clear tears, leak drop by drop.
Other information:
Surami is 50 km away from Gori

Surami is 137 km away from Tbilisi.

The landscape is hillock.

Diseases for treatment: chronic diseases of bones, functional disorders of peripheral nervous system, skin, cardiovascular and nervous system.

There are two main houses spending your holiday, "Sapovnela" and "Nakaduli".

Surami's natural resource is mineral waters, which have different, curing consistence.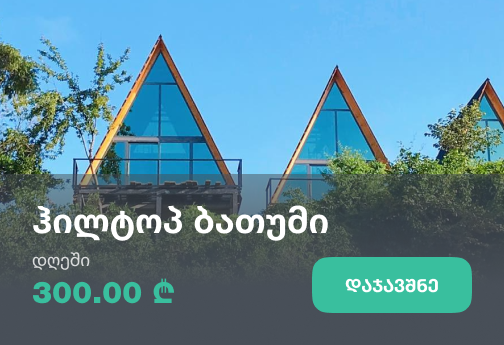 Where to stay In Shida Kartli
Cottage
Park Hotel Surami Chalet
If you are looking for a place for a healthy vacation near Tbilisi, you should definitely come to Su...
590.00 ₾ per person
Book
Write review and rate destination
Help other travelers use your experience.
Review this destination, share your thoughts, impressions, pros and cons.
Let's make traveling easier than ever.
Write a review