About Bakuriani Ski Resort
Best time to visit: Winter
Where is Bakuriani Ski Resort?
Bakuriani Ski Resort is located on the northern slope of the Trialeti Range, in the Borjomi Municipality, at the elevation of 1.700 meters above the sea level. Bakuriani is about 180 kilometers away from Tbilisi and 30 KM away from Borjomi. The climate of Bakuriani is well-known for its natural treatment benefits. That is one of the reasons why a lot of travelers go to Bakuriani during every season. January and February are the best time during the winter season. The quantity and quality of snow give a good opportunity to skiers to enjoy their time in that period.


How to Go to Bakuriani Ski Resort?
It takes about two-three hours to reach Bakuriani. Travelers go to Bakuriani by their cars and minibusses. Minibusses go from Station Square and Didube Bus Station. The road is always open and isn't covered by snow before Borjomi. However, the road is covered with snow, and sometimes it's iced in Bakuriani. Because of it, to have winter tire-cover would be better, otherwise, it'll be hard to get to the destination point. Another way is to go to Borjomi by minibus or train and continue traveling by "kukushka" from Borjomi. Kukushka is a little train which lets travelers enjoy the beautiful views on the way to Bakuriani.
The Ski Tracks
Bakuriani as a ski resort was born in 1935. There are 23 different ski traces which are divided by the levels of difficulty. Beginners, intermediate, advanced skiers can enjoy the skiing. Though, Bakuriani is not an ideal place for the professional skiers. Snow quality is less in Bakuriani than in other ski resorts in Georgia. Therefore, Bakuriani is recommended for the ones who are the beginner and intermediate skiers.
There are 5 ski tracks in Bakuriani. Ski lifts and 1 funicular are open from 10 AM to 17 PM. Didveli ski track is a wonderful place for the skiers because of the colorful lights that are set up along the full length. Travelers go to Didveli ski track on weekends where they enjoy night skiing. It starts at 17:00 PM and ends at 21:30 PM.

Infrastructure
Living in Bakuriani is cheap and isn't expensive compared to other ski resorts of Georgia. Family hotels offer travelers to live on a budget. Another optional way is to rent a flat which is a comfortable opportunity too. The prices are doubled in the period of Christmas and New Year holiday. The products are cheap in Bakuriani.
What's most important, Bakuriani has many advantages comparing to other ski resorts. Bakuriani is rich for the entertainment and recreation activities. There are many different kinds of skiing traces for the skiers. Bakuriani is a suggested place for the non-skiers also. There are many restaurants, amusement parks, skating rinks, sleds, snow scooters. The markets are mostly in every corner of the city which is a big advantage for your daily life.
The main negative side of Bakuriani is that snow quality and quantity are worse than in Svaneti and Goderdzi ski resorts. Skiing equipment such as helmets, ski goggles, isn't in a good condition. It would be better for the skiers to have their own ones.
In short, Bakuriani is a good winter ski resort for having a fun time. It doesn't matter if you're single, with family members or with friends, Bakuriani ski resort without a doubt will be your next adventurous place.

To get live information about all ski resorts of Georgia, you can simply download an APP Mountain Resorts of Georgia: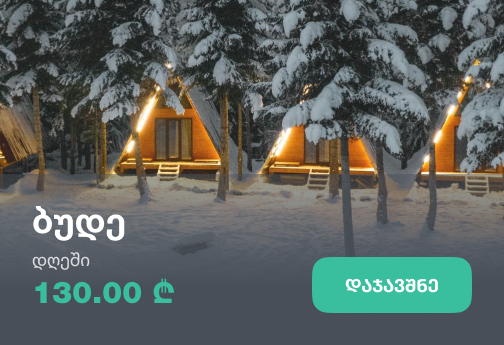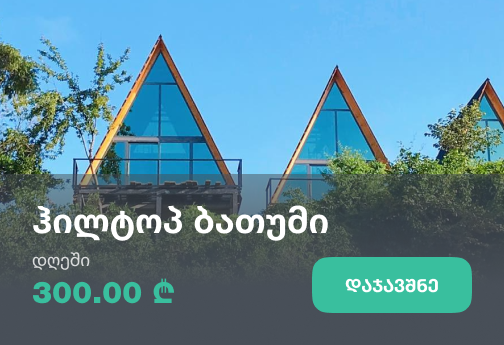 Our guides are ready to help you on this trip
Book a tour online!
Buy our tours online and explore incredible Georgia!
See all
Pricing
SKI PASS TYPE

CARD TYPE

01.12.2019 - 27.12.2019
14.03.2020 - 31.03.2020
28.12.2019 - 03.02.2020
04.02.2020 - 13.03.2020


Adult

Child

Adult

Child

Adult

Child

1 Ride
Barcode

7
7
7
7
7
7
3 Rides
Barcode

21
21
21
21
21
21
Panorama (3 Rides)
Barcode

15
15
15
15
15
15
Ski Schools

Multicard

-
10
-
10
-
10
1 Day
Multicard

30
20
40
25
35
25
2 Days
Multicard

58
38
77
48
68
48
3 Days a Season
Multicard

84
57
112
71
98
71
4 Days a Season

Multicard

112
71
149
92
130
92
5 Days a Season

Multicard

137
91
182
114
159
114
6 Days a Season

Multicard

160
107
213
133
186
133
7 Days a Season

Multicard

174
116
232
145
203
145
Season

Multicard

300/150*
180/90*
300
180
300
180
Student

Multicard

180/90*
-
180
-
180
-
Family (2/2 - 2/3)
Multicard

-
-
105/125
-
105/125
-
Night Skiing

Multicard

20
15
20
15
20
15
Toboggan

Barcode

10
10
10
10
10
10

















GUDAURO / BAKURIANI / GODRDZI /

SVANETI (WINTER)







Adult





Child





Adult





Child





Adult





Child


7 Days a Season
Multicard

312
156

-

-

-

-

10 Days a Season
Multicard

420
210

-

-

-

-

Season

Multicard

600
300

300*

150*

300*

150*

Student

Multicard

300
-

150*

-

150*

-

Where to stay In Samtskhe - Javakheti
Один из самых лучших горнолыжных курортов. Остановились в центре, в гостинице Villa Monte, у частного лица в аппартаментах. Рядом есть все и банк, две горнолыжные дороги, 25 и "Дидвели". Единственный минус, мы были без машины, заказывали трансфер в Бакуриани. Бе собственного транспорта придется немного походить, но тем не менее все рядом. И спар есть, и очень большая альтернатива по выбору лыж. Все круто
Review Bakuriani Ski Resort
Login