About Elia monastery
Best time to visit: All Season
Elia monastery is located in Kakheti, in the southern part of Dedoplistskaro, on double-peak limestone mountain. Temple of the Saint Ilia Tezbiteli is located on mount Elia from the sixth century. Many people gather here every August 2, on the day of the great prophet, Saint Ilia Tezbiteli. They overnight on a double-peaked mountain and pray at the bottom of the Elia rock.
history
Archaeological excavations prove that the temple of St. Ilia Tezbiteli, existed in the VI century, but the exact date of its construction is unknown. Its restoration was possible in 2006.
The only written note was kept by Alexandre Dumas, who saw the rock of Elia during his trip to Caucasus and Georgia in 1858 and made a brief entry: "There is another mountain, which is located about six miles from the castles of Queen Tamar and there is a legend as well. This mountain is called Elia Mountain and at the bottom there is a salt lake. In the wide cave in the middle of the mountain there is a bell tower, which residents often visit. According to the legend, the crow brought food for the prophet Ilia. He left his cape to his student Elise and raised in the sky from the top of the mountain." (A. Dumas, Caucasus, Tbilisi, 1970, pp. 259-260).
The chapel of St. Ilia survived many of the storms, which occurred in Kakheti-Hereti and especially in Kambechovan. The chapel is functioning to the present day and worship is performed, all thanks to the local resident, architect of the Patriarchate, Sergo Kartvelishvili.
Mount Elia has one secret. From the side of this mountain there is an entrance to the tunnel, one end of which goes to the castle of Khornabuji. This tunnel enters the Elia mountain and further forks on the different sides. In confirmation of this fact this is the exit of the tunnel in Khornabuji. As it is said, the roads went in different directions from this tunnel, but only one is known- the final exit road to Khornabuji. Nowadays, this tunnel collapsed and only the entrance remained.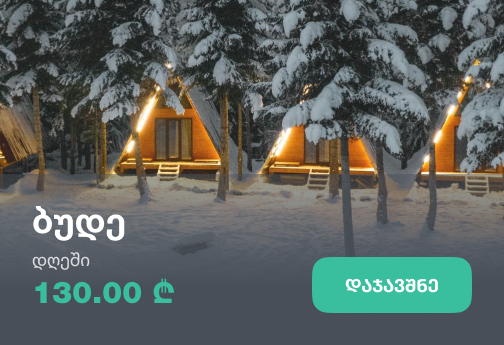 ადგილი, რომელიც აუცილებლად უნდა ნახოთ
Review Elia monastery
Login