The Pavnisi church of Saint George
About The Pavnisi church of Saint George
Best time to visit: All Season
The Pavnisi church of Saint George is located in the village of Gariqula, in the Kaspi Municipality, Shida Kartli region. It dates back to the 9th-10th centuries. The hall-type church was built from cut stone and sandstone, tuff rock was also used. The rectangular building in plan, in the interior, ends with a semicircular apse to the east. The temple is covered with a semi-cylindrical vault rested on a triumphal and another arch. The arches are supported by pilasters. Pilaster capitals have a simple shelf-like form. The western part of the vault was recently renewed and was made of concrete. In the altar, a fragment of the iconostasis has been preserved. The apse has one arched window, the western wall is blank, the southern wall has two windows and the northern-only one. A simple cornice goes along with the facades. On the eastern facade, above the window, a relief tile is inserted, which depicts a circle and a snake. A small chapel is attached to the south of the church. The entrance is from the south. The church is covered with a two-inclined tiled roof.
Frescoes
Fragments of frescoes have been preserved in the interior of the Pavnisi church of Saint George. Two layers of paintings are noticeable. The first layer of frescoes was made when the temple was built, the second layer belongs to the second half of the 12th century. The first layer is very damaged and almost impossible to see. Colored spots are preserved on the north wall and the figure of a crowned man on the south wall. The frescoes of the altar are best preserved from the second layer of paintings. Most of the murals of the vault and on the northern and southern walls are destroyed. In the interior of the temple, the fresco of a cycle of holy holidays is presented. The conch depicts a composition of prayer. In the church, five scenes depicting St. George are found. The ornamental stripes go along with the apse and wall murals at the bottom. The mural is also observed in the chapel. The chapel frescoes date back to the second half of the 13th century.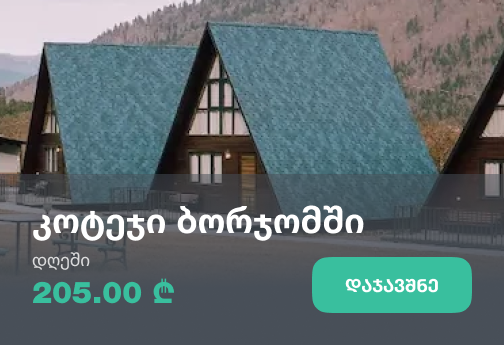 Where to stay In Shida Kartli
Cottage
Park Hotel Surami Chalet
If you are looking for a place for a healthy vacation near Tbilisi, you should definitely come to Su...
590.00 ₾ per person
Book
Write review and rate destination
Help other travelers use your experience.
Review this destination, share your thoughts, impressions, pros and cons.
Let's make traveling easier than ever.
Write a review
Review The Pavnisi church of Saint George
Login