About Kuakantsalia
Best time to visit: All Season
Kuakantsalia is a swinging rock located in Samegrelo, Tsalenjikha Municipality, on the limestone massif of Kvira, at the headwaters of the river Intsra, at 1800 m above sea level. This natural wonder is one of the most impressive sights of Samegrelo. Giant swinging rock creates a kind of mystical mood. A limestone rock with efflorescence on the surface due to rains stands on an elevated pedestal. It has four fulcrums, one of which is always in the air. This huge mass of stone begins to swing and make a croaking sound even with the slightest touch of one hand on one of the ridges. The height of the boulder is- 1.75 - 1.45 m, width - 1.68 and 2.10 m on one side, 1.60 m on the other, and weight is about 10-12 tons. Similar swinging rocks are found in many countries, although most of them are produced in magmatic volcanic rocks, while Kuakantsalia is a limestone boulder and is located in a karst massif. From this place, vast spaces and beautiful views open from all sides. Amazing landscapes and the magic of nature will fill you with unforgettable impressions.
The legend
Kuakantsalia has amazed visitors even in ancient times and it has found a place in Georgian mythology. The swaying rock is associated with one legend. In the mountains lived a descendant of the gods, a hero with unusual strength Aramkhutu, who helped people. Once in the valleys of the rivers - Chanistskali, Intsra and Morozha - the cannibal Devi (Georgian mythical creature) appeared. Once a month he visited villages and kidnap children. Residents turned to Aramkhutu for help, who threatened Devi. Devi made an appointment for Aramkhutu in the Okhachkue mountains to fight. They held a battle. Aramkhutu tore off a large boulder of the mountain and threw it to Devi, Devi returned the boulder. They fought for seven days and nights. At last, Aramkhutu took an enormous rectangular boulder, threw it with all his might, and broke the Devis's head in two. People raised the surviving hero up on the Kvira mountain with great joy. Aramkhutu found the rock with which Devi had been defeated, took it out from the ground, and placed it in such a way that it swayed with the slightest touch of the hand. He erected this boulder so that this story was passed down from generation to generation as a sign of the victory of good over evil. The villagers named the boulder Kuakantsalia, which means a swinging stone. It still sways and reminds people of the power of heroism and kindness and for a second takes them to a fairy-tale world.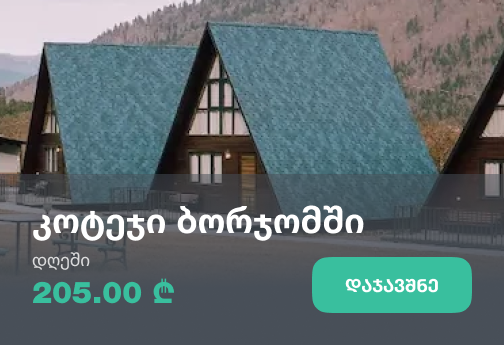 Canyon · Adventure Tour
Day Trip in Tkhopra Canyon
If you are a fan of canyoning and extreme adventures, then canyoning in Tkhopra Canyon is just for y...
400.00 ₾ per person
Book
Write review and rate destination
Help other travelers use your experience.
Review this destination, share your thoughts, impressions, pros and cons.
Let's make traveling easier than ever.
Write a review
Review Kuakantsalia
Login