About Liberty Square
Best time to visit: All Season
Liberty Square
is the main square of
Tbilisi
and is one of the most crowded and popular places in the city. Here you will find the fascinating architecture of the XIX-XX centuries. In the center of the square stands a
monument
of St. George created by Zurab Tsereteli.
Hotels
,
shops
,
banks
,
Tbilisi Tourist Center
, Tbilisi City Assembly and
museums
are located around Liberty Square. There is a big
shopping center
near the Liberty Sqaure - Galleria Tbilisi. Here is also Pushkin Square. Behind Pushkin Square is the
Georgian Art Museum
, where the most important works of chasing art and painting are kept. The Rustaveli
Cinema
and the
Georgian National Museum
are also located near the square. At the National Museum, you'll discover exhibits from different periods in terms of art and history. The main street of the city - Rustaveli Avenue connects Liberty Square. You can easily reach the old districts of Tbilisi from the square and see many sights of the city.
History
Until 1801, the territory of Liberty Square was a suburb of the city and was called Garetubani. Firewood was brought to this place from villages near Tbilisi, so locals called it the firewood square. In the following period, the Russian administration built the headquarter of the Caucasian Army at the corner of the square, and this place was renamed headquarters square. The first official name of the square was "Paskevich-Yerevan". In 1917, it was renamed Liberty Square. During Soviet period, it changed its name several times, but eventually restored the name of Liberty Square. The main square of Tbilisi has a history of about two centuries. It used to be an uninhabited place outside the city walls. According to Platon Ioseliani, a famous Georgian historian of the XIX century, on the north side of the present square, about where the Art Museum is now located, was the king's caravansary at the end of the XVII century, which was destroyed by the Turks during the invasion of 1724. Intensive development of the square began in the first quarter of the XIX century. During the "Tbilisi War" in 1991-1992, several buildings in the square were destroyed. Also in 1992, an architectural competition for the reconstruction of the destroyed quarter was announced, which was even implemented. In 1999, a new competition was announced for a multifunctional building directly adjacent to the square. As a result, in 2002 a new hotel "Courtyard Marriott" was opened on the square. On 23 November 2006, a 40 metre high statue of St. George erected on a pillar was unveiled on the square, the author of which is Zurab Tsereteli. The 27 tone and 9 meters tall statue, on which 2 KG gold was spent, is the author's gift to the city.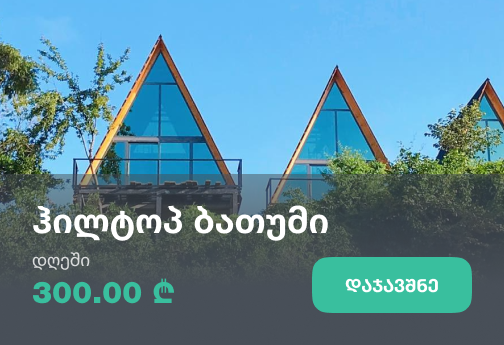 Write review and rate destination
Help other travelers use your experience.
Review this destination, share your thoughts, impressions, pros and cons.
Let's make traveling easier than ever.
Write a review
Review Liberty Square
Login