Mikheil Khergiani House-Museum
About Mikheil Khergiani House-Museum
Best time to visit: All Season
Mikheil Khergiani House-Museum - House-Museum of Georgian climber, honored master of sports of the USSR international class and rock tiger is located in Mestia, Svaneti. The memorial house-museum was organized in Khergiani's native house in 1985.
The first floor of the museum exhibits the personal belongings of the famous climber, International Master of Sports Mikheil Khergiani (1932-1969): clothes, climbing equipment, photos, awards, gifts - including recording of Vladimir Vysotsky's song, which he dedicated to Khergiani, and others.
Biography
Mikheil Besarion Khergiani was born on March 20, 1932. His baptismal name was Chkhumliani. Khergiani himself said the following about his own name: "I have three names. My real name is Chkhumliani. At baptism this name was given in honor of our distant ancestor. My second name is Minani, so my father, brothers, sisters, close relatives call me at home. My third name is Russian - Mikheil. Misha, Mikheil - this is how I was baptized in the school of climbing instructors, as Chkhumliani could not be expressed. "
Misha has been growing up in love with the mountains since childhood. His father was a climber who conquered Ushba in 1937. In addition to his father, his uncle and cousin were climbers. As a teenager, Misha listened to the fascinating stories of climbing mountains. He went to the mountains, climbed rocks and was fascinated by alpine skiing.
In 1969 he graduated from the Georgian Institute of Physical Culture. Champion of the USSR three times (1955, 1956, 1964) in climbing and seven times (1952, 1960, 1962, 1964, 1965 (absolute), 1966, 1967) of the USSR Trade Union Competition and Rock Climbing Championships. He was distinguished by his incomparable mastery of climbing mountains and rocks. He was very popular among both Soviet and foreign climbers.
Mikheil Khergiani became the seven-time champion of the USSR in rock climbing. He earned the title of "Rock Tiger" from English climbers for his ability to quickly overcome difficult rocky routes.
Many people have survived as a result of Khergiani's rescue work in the mountains. The Khergiani Memorial Museum was opened in Mestia in 1983 to immortalize his name. The Khergiani Memorial (Rock Climbing Competition) has been held annually near Gagra since 1976. In 1971, the Khergiani Prize was established at the Union Climbing Competition. Khergiani was awarded the Order of Honor.
Death of Khergiani
In 1969, Mikheil Khergiani traveled with a group of climbers to the Italian Alps for some effective climbing on the peaks. The last route was the 700-meter wall of Mount Monte Civetta, where Khergiani had to set a record. He was accompanied by Moscow climber Vyacheslav Onishchenko. The first Khergiani was going. At one moment Khergiani plummeted with a pile of large boulders. Onishchenko was on the other side of the rock and he did not see that moment. Hearing a horrible noise and screaming sound, he prepared for that the rope would break, but immediately felt that the rope was no longer stretched. The rope was broken by stones that were cut along with Khergiani.
Khergiani plummeted from a height of 600 meters on the stones. The climber's body was terribly mutilated. Mikheil's father was able to identify his son only with a belt. The climber was only 37 years old. At the top of the house, on a rock-like wall, is kept that unfortunate rope, red in color.
In 1969, on the ridge of Turkestan, a 4960 m high peak was named after him.
Khergiani also left a noticeable mark on the culture. Books, short stories, compositions have been written about him, Yuri Vizbor and Evgeny Evtushenko have dedicated poems to him. Vladimir Vysotsky dedicated a wonderful song К вершине to Mikheil Khergiani.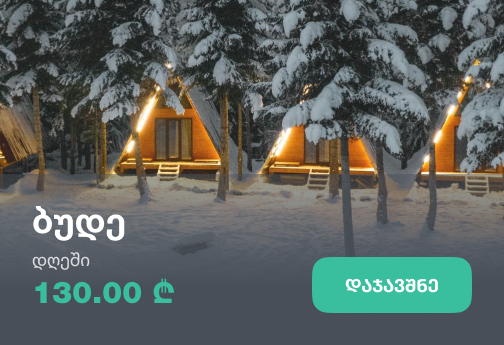 Write review and rate destination
Help other travelers use your experience.
Review this destination, share your thoughts, impressions, pros and cons.
Let's make traveling easier than ever.
Write a review
Review Mikheil Khergiani House-Museum
Login