About One Day Trip to Kazbegi
Best time to visit: All Season
Kazbegi and its surroundings are one of the must-see places in Georgia. Day trip gives you the opportunity to visit historic destinations, to enjoy some spectacular panoramic landscapes of the region and also you can taste well-known local food.
The trip to Kazbegi starts from Tbilisi and heads to the north. This is the mainroad running for 220 km from Tbilisi to Vladikavkaz in Russia, a spectacular road with its stunning mountains. This road is important as it is the only legally available link connecting to Russia through the Caucasus Mountains.
Jinvali Water Dam and Ananuri Fortress
The first sight to visit on the road is Jinvali water reservoir, which is a hydroelectric dam on the Aragvi River in Zhinvali. You stop along the way to snap photos of the wonderful scenery of blue coloured water and panoramic views. Then you explore Ananuri complex, which is close to Jinvali water dam and about 70 km away from Tbilisi. The fortress dates to XVI-XVIII centuries and it is situated to the foreland by the river Aragvi.
Gudauri ski resort
The trip goes on to Gudauri ski resort, located on the south-facing plateau of the Greater Caucasus Mountain Range in Georgia, 2 200 m above from thesea level. In winter, Gudauri resort offers high-quality skiing opportunities and is certainly one of the best places for extreme sports lovers.The mountain slopes are covered with snow for 4-5 months, from December to late April, and provide great opportunities for ski/snowboarding. The slopes are accessible via several platter lifts,chairlifts, and a cabin lift.There are different activities for holidaymakers like paragliding, training in skiing, snowmobiles, sledges etc. In summer, the resort takes on a whole new life as a fabulous sightseeing destination – with crisp fresh air, green mountains and superior areas for horse-riding, mountain biking, hikingetc.
Next stop is the Monument or Treaty of Georgievsk. Itis a monument built in 1983 to celebrate the bicentennial of the Treaty of Georgievsk and ongoing "friendship" (currently 20% of Georgia is occupied by Russia)between Georgia and Soviet Russia.The panoramic view from the monumental balcony is incrediblybeautiful.
Kazbegi and Gergeti Trinity Church
From Gudauri the road continues to Kazbegi. It is located 165km in the northfrom Tbilisi and only 11km from the Russian border. Stepantsminda is the beating heart of Mtskheta-Mtianeti region.
The small highland town Kazbegi (Stepantsminda) is surrounded by the huge Caucasus Mountains and is located at an elevation of 1,740 meters above sea level. It is distinguished for its wonderful nature. The place is also famousfor its unique medieval Gergeti Trinity Church (Holy Trinity Church), built inthe 14th century. The church stands at an elevation of 2170 meters, under Mount Kazbegi (5047m), overlooking the breath-taking scenery of Stepantsminda. If you are well prepared and have enough time, you can walk to the church, but it will take up to 2 hours. Other options are renting a horse or a taxi. Horse ride is a memorable experience, however a rider needs skills and courage. Due to its isolation in the steep mountainous area full of nature, it remains the most iconic tourist attraction in Georgia. You can enjoy the view of impressive Mount Kazbek, 5047 m height. Stepantsminda is a starting point for alpinists who want to conquer the Mount Kazbek (In Georgian Mkinvartsveri).If you have time and wish to explore other destinations and activities in this area follow the link
What to eat?
Georgians have one of the diverse cuisines in the world and offer a significant number of dishes that can satisfy every person's preference. While most of the popular dishes are available anywhere in Georgia, we can also advise you to take advantage of tasting the dishes specific to the region.One of the authentic traditional local dishes which is best served in Kazbegi region is Khinkali. It is the "visit card" of this region, unbelievably delicious and cheap as well. Vegetarians can also enjoy Mkhlovani. Mkhlovani is kind of variety of the most popular Georgian dish Khachapuri. Here you can find the list of places where you could taste Khinkali and other Georgian food.
Transportation:
We recommend you to explore available private transport option with or without driver/guide while traveling in Caucasus mountains. Any sedan with reasonable clearance can handle the destinations of the route in summer. During the winter time it is strongly recommended to use 4X4 SUV with winter tires as the snowfall might become major obstacle for your travel plans. If you would like to keep the budget low, you could look for the mixed group tours.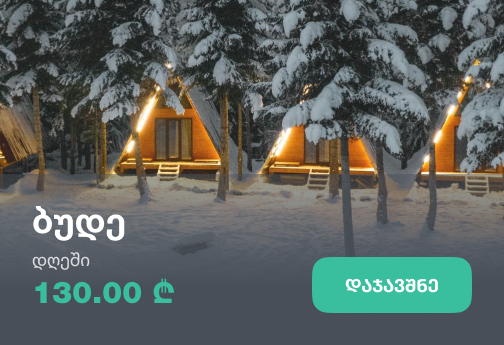 Tours In Mtskheta - Mtianeti
Write review and rate destination
Help other travelers use your experience.
Review this destination, share your thoughts, impressions, pros and cons.
Let's make traveling easier than ever.
Write a review
Review One Day Trip to Kazbegi
Login