About Khanchali Lake
Best time to visit: All Season
Khanchali Lake is located in the Samtskhe-Javakheti region, Ninotsminda Municipality, at 1928 meters above sea level, in the central part of the Javakheti volcanic mountain range. It is part of the Khanchali Managed Reserve. The vast expanses of Javakheti, the alpine meadows and the flowing blue lake attract many tourists. It is one of the wonderful places to unwind in nature. The diversity and abundance of birds add even more charm to Khanchali Lake. You can see a lot of nesting or migratory birds here in summer. The spectrum of harmonious colors of landscapes and waterfowl make an indelible impression on the visitor. From the end of November to the end of April the lake is covered with ice and if you are a lover of winter travel, here you will find a magical, shining world. Khanchali Lake is one of the most popular places for nature lovers.
Lake Khanchali is fed by rain, snow and groundwater. Its surface area is 13.3 km, and the greatest depth is 0.8 m. It is characterized by the lowest depths among the lakes of Javakheti highland. The lake basin is formed by the lava flow of the syncline fault. The lake basin is characterized by a fairly dense hydrographic network, with up to ten small tributaries joining the lake from the south and south-east. Currently, the lake is divided into two parts by a dam. It is almost completely covered with aquatic plants. There are small amounts of fish in the water. The lake is surrounded by several districts and villages of Ninotsminda- Didi Khanchali and Patara Khanchali.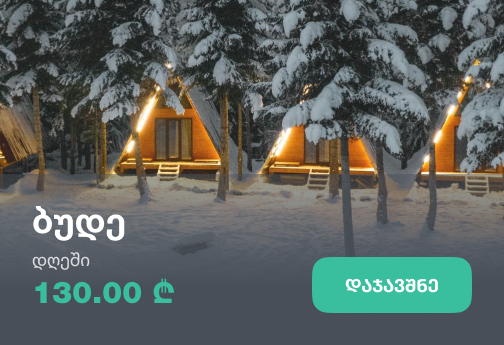 Where to stay In Samtskhe - Javakheti
Write review and rate destination
Help other travelers use your experience.
Review this destination, share your thoughts, impressions, pros and cons.
Let's make traveling easier than ever.
Write a review
Review Khanchali Lake
Login