Salkhino - Dadiani Palace
About Salkhino - Dadiani Palace
Best time to visit: All Season
Dadiani Summer Residence - Levan Dadiani Palace in the village of Salkhino, Martvili Municipality, Samegrelo Region, on the bank of the river Tsachkhura.
Salkhino Dadiani Palace, currently the residence of Patriarch Martvili, is an important monument of the Martvili tourist area. The complex includes the palace, St. Dadiani Gate. St. George's Church, a large alley of chador trees and boxwood groves in an open field and a park with benches. The yard is very large, shady, cozy, and pleasant.
History
Salkhino Palace took third place (after Zugdidi and Gordi residences) with significance. In 1825-1826, in Salkhino, Megrelian rulers owned a simple wooden ode where the Megrelian queen - widow Anna lived. Instead of a wooden ode, Levan V Dadiani built a two-story stone palace on the advice of Archil Batonishvili and Giorgi Genelia. According to historical sources, the palace was built by the Turk and Greek builders, and the necessary materials were brought by the peasants.
The palace received its final look during the reign of Levan's granddaughter Salome Dadiani-Murat when she inherited Saliparitiano after the death of Princess Salome's mother - Ekaterine Dadiani-Chavchavadze. Next to the palace, there still is a church (restored) built-in 1782 by Megrelian prince Katsia II Dadiani. Around the huge pitcher in the middle of the lower floor of the palace, there was an arbor with a beautifully carved arch on the oak columns, which fully justified its name - "Salkhino". In the words of I. Meunargia, the idea of building such a palace must have come from a prince who had spent his whole life in the feast.
Jonah Meunargia wrote about the Dadiani Salkhino Palace: "The palace was located near the homeland of the Ojaleshi vine, on the banks of the river Cheshura, famous for its trout."
The last major celebration at the Dadiani Salkhino Palace was in 1897 during the wedding ceremony of Lucien Murat and Duchess de Roan.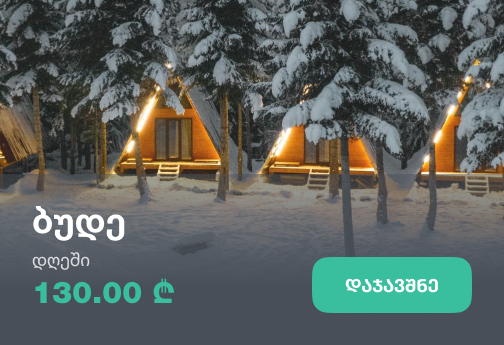 Canyon · Adventure Tour
Day Trip in Tkhopra Canyon
If you are a fan of canyoning and extreme adventures, then canyoning in Tkhopra Canyon is just for y...
400.00 ₾ per person
Book
Write review and rate destination
Help other travelers use your experience.
Review this destination, share your thoughts, impressions, pros and cons.
Let's make traveling easier than ever.
Write a review
Review Salkhino - Dadiani Palace
Login