About Borjomi Resort
Best time to visit: All Season
Borjomi city and resort is located in the Samtskhe-Javakheti region, Borjomi Municipality, on the eastern slope of Meskheti Range and on the western slope of Trialeti Range, 800-900 meters above sea level. Borjomi is characterized by a moderately humid climate with moderately cold winters and long, warm summers. It is a balneo-climatic resort. The main treatment is mineral water, which is used for drinking and balneological procedures. Borjomi treatment also includes climatotherapy, mud therapy and others. The best period for climatotherapy is June-October. Borjomi is one of the tourist places in Georgia and attracts a great number of tourists and travel lovers. Here you will find comfortable hotels, a well-equipped park, children's entertainment, etc. Many people visit the Borjomi sulfur pools, which is an excellent way to relax and relieve stress. If you are a fan of active recreation, you can engage in rafting and arrange hikes of various complexity. You will get detailed information about tourist routes in the information center. Borjomi-Kharagauli National Park offers truly unforgettable impressions to adventure seekers. Beautiful forests, alpine meadows, diversity of flora and fauna and spectacular views amaze everyone. Borjomi is also interesting for people interested in culture. Here you can visit many cultural and historical monuments. Medieval castles and temples make a great impression on the visitor. In the city, the Museum of Local Studies is situated, where more than 40,000 exhibits from different periods are kept.
History
Remains of a 1st-century bath, built with hewn stone, have been found on the territory of Borjomi. It seems that Borjomi mineral water has been used for healing since ancient times. In the XVI-XVIII centuries, the constant attacks of the Ottomans on the Borjomi Gorge destroyed this region and the existence of mineral waters was forgotten. Borjomi was first mentioned in historical sources in the 19th century. Its foundation was conditioned by the rediscovery of mineral waters. At the beginning of the XIX century, two mineral water deposits were found in the territory of the current Borjomi Park, dwellings were built nearby and this settlement was named Borjomi. This territory belonged to the Avalishvili family, and in 1871 it was handed over to the Viceroy in the Caucasus - Michael Romanov. A two-story palace was built for Romanov on the left bank of the Mtkvari River. In 1890, the industrial casting of "Borjomi" began. In 1892-1895 a palace complex was built in Likani and a large park was arranged. In 1894 the Khashuri-Borjomi railway line was laid, and in 1898 the Borjomi hydroelectric power plant was put into operation. By the end of the 19th century, several enterprises were already operating in Borjomi. Borjomi received the status of a city in 1918. Today the city is well-equipped and very attractive for tourists.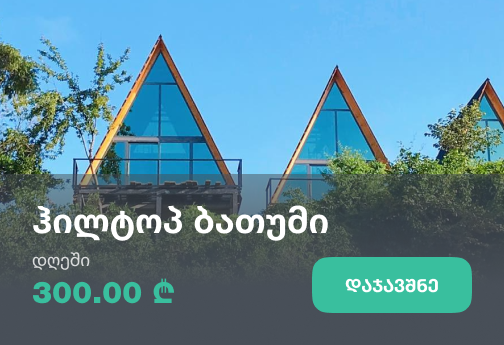 Recommended duration: 1 hour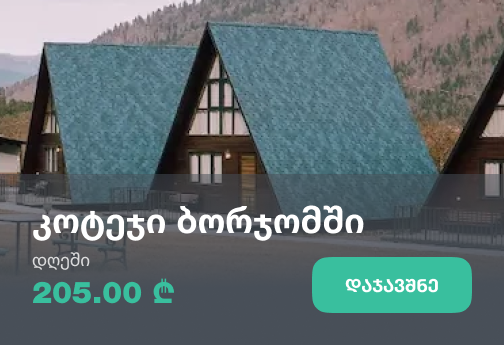 Our guides are ready to help you on this trip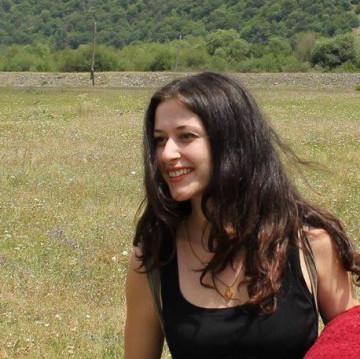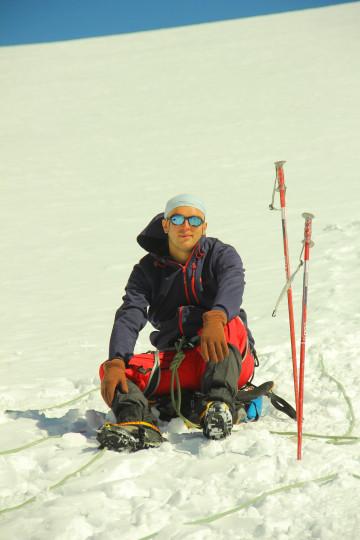 +28
Book a tour online!
Buy our tours online and explore incredible Georgia!
See all
Where to stay In Samtskhe - Javakheti
Write review and rate destination
Help other travelers use your experience.
Review this destination, share your thoughts, impressions, pros and cons.
Let's make traveling easier than ever.
Write a review
Review Borjomi Resort
Login